Experts believe overdue eruption of Katla would wreak even more havoc on European flights than Eyjafjallajökull did last year
Associated Press in Vik
guardian.co.uk
,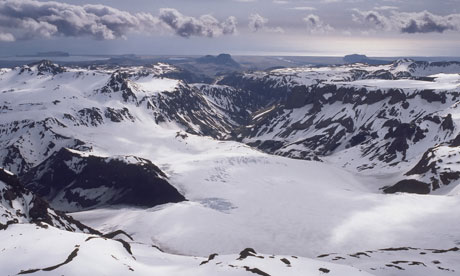 Icelanders are being warned that clusters of small earthquakes are being detected around the Katla volcano. Photograph: Arctic Images / Alamy/Alamy
(
The Guardian
) If you thought last year's flight-paralysing volcanic eruption from
Iceland
was bad, just wait for the sequel – that is the message from experts nervously watching the burps and rumbles of an even more powerful volcano.
Brooding above rugged moss-covered hills on Iceland's southern edge, Katla is bigger than nearby Eyjafjallajökull, which spewed ash all over
Europe
for several weeks and cost airlines $2bn (£1.2bn).
Named after an evil troll, Katla has a larger magma chamber than Eyjafjallajokul's, according to local scientist Páll Einarsson. Its last major eruption, in 1918, continued for more than a month, turning day into night, starving crops of sunlight and killing off livestock. The eruption melted some of the ice sheet covering Katla, flooding surrounding farmlands.
Now, clusters of small earthquakes are being detected around Katla, which means an eruption could be imminent, seismologists say. The earthquakes have been growing in strength, too. After a long period of magnitude-3 tremors, a magnitude-4 quake was detected last week.
"It is definitely showing signs of restlessness," said Einarsson, a professor of geophysics at the University of Iceland...