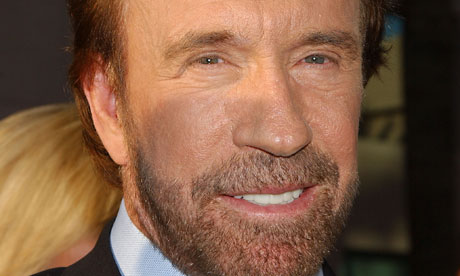 Reuters, Bratislava
(
The Guardian
) Slovaks have been voting overwhelmingly in favour of naming a new pedestrian and cycling bridge near their capital after 1980s US action film and TV star Chuck Norris.
The two other top names in the running for the bridge, which will span the Morava river and cross the border to
Austria
, were Maria Theresa after an Austro-Hungarian empress and the Devinska cycling bridge in honour of the closest village.
Norris, a martial arts expert-turned film star, is known for playing tough guy characters in such movies as Lone Wolf McQuade, Missing in Action and The Delta Force.
The actor's work has become a popular source of kitschy fun among Slovaks and a mainstay for local jokes about macho strength and invincibility.
The final decision will be up to a regional assembly. But regional governor Pavol Freso has said it would follow the wishes of the people in the internet ballot where Norris leads as the top choice for the bridge's name.
"The same way as we have so far been building it in full sight of the public, we will seek that the name is accepted by the public as well," he said.
The voting will run until April. As of Thursday, 1,157 votes have backed Norris, 74% of the total, leaving the runner-up "Maria Theresa Bridge" far behind with 8%.