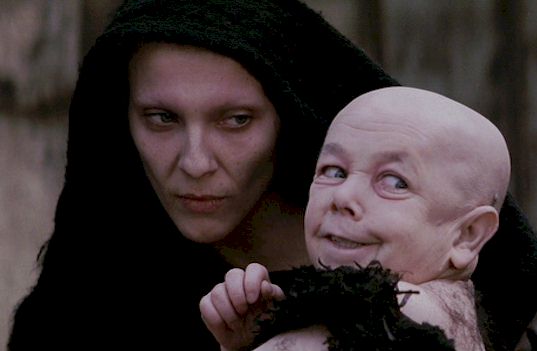 From Patsy McGarry at the
Irish Times
:
...The website of Ireland's Brothers and Sisters in Christ (Basic) movement for Catholic women priests in Ireland has not been updated since October 2007. According to Soline Humbert, this is because Basic, which was set up in 1993, has become something of an underground movement. Anticipating the May 2008 action of the CDF, articles and names were removed from the website to prevent people losing their jobs as theologians, chaplains, and so on.
"Fear is an awful thing, another form of institutional abuse," she says. "People who believe one thing are being forced to do another. At heart it is a dysfunctional church, where people cannot speak about what they believe in conscience."
This is all such a long way from the Basic seminar in 1995, when participants included the future President, Mary McAleese, and the retired professor of moral theology at St Patrick's College Maynooth, Fr Enda McDonagh.
Soline Humbert believes she has a vocation for the priesthood and has celebrated the Eucharist in her home every day this past 14 years. "I am not the only one," she says. "I know several. Some religious sisters do it as well. My first chalice and paten were given to me by a religious sister and another by a community of religious sisters."
Originally from Versailles, Humbert fell in love with Ireland on a visit in the late 1960s. She attended Trinity College Dublin in the early 1970s and married here. She has two sons. One bishop said to her that "perhaps one of your sons will have your vocation to the priesthood". She was not impressed. She has not had much luck with bishops.
Then Catholic primate Cardinal Cahal Daly refused even to accept from her a petition calling for women priests. It had 10,000 names. He wrote to her saying he could not do so, as the Pope had spoken on the matter. She wrote a letter to this newspaper so that the signatories could be informed. She quoted from the cardinal's letter. He wrote to her again, expressing his dismay that she would quote from their private correspondence and saying she could not be trusted.
For Humbert, "it was a moment of insight into the abuse of power. He did not want it known that he had refused to accept the petition". She tried to get a meeting with the cardinal, without success.
She sent him a Valentine's card one February. It asked: "What about a date?" The tactic worked. She was invited to Armagh. "It was the toughest meeting. The man was steel," she says.
She met Cardinal Desmond Connell when he was Archbishop of Dublin. He told her: "A woman wasn't on the cross and so couldn't represent Christ. There was not much meeting of minds."
Cardinal Seán Brady simply refused to discuss the issue with her at all. "He said no, he couldn't. Rome has spoken," Humbert says. "He came down like a guillotine."
Similarly with the late Cardinal Basil Hume, Archbishop of Westminster. He was visiting Dublin and was shaking her hand as she began talking about women priests. "He withdrew his hand. He left me absolutely . . . as if I had leprosy," she says....