"Thank you. Lord, I thank you. Jesus, I love you. If it wasn't for God, I wouldn't be here today. So Lord, I thank you." - Deion Sanders
By Jean-Jacques Taylor
ESPNDallas.com
CANTON, Ohio -- For Deion Sanders, as hard as it'll be for some of you to believe, it was never really about the money and the cars and the jewelry.
Those were baubles, the trappings of the Prime Time persona he created in a Florida State dorm room because he knew NFL cornerbacks didn't make nearly the money quarterbacks, running backs and receivers earned.
For Deion, it was always about his mom.
Every outlandish quote. Every interception. Every touchdown.
The dancing. The high-stepping. The celebrations. Those were for his mom, too.
Everything he did was to garner attention - Marketing 101 - and put dollars in his pocket, so he could take care of his mom, which is all he ever really wanted to do.
The promise he made as a 7-year-old one evening, while she cooked dinner for him after getting off of work drove him to become one of the finest players in NFL history.
That's the day Deion vowed he would be rich enough one day that she'd never have to work again.
"The problem with some dreams is that the dream is only about you," Deion said Saturday night during his induction speech before 13,300 at the Pro Football Hall of Fame.
"If your dream ain't bigger than you, then there's a problem with your dream."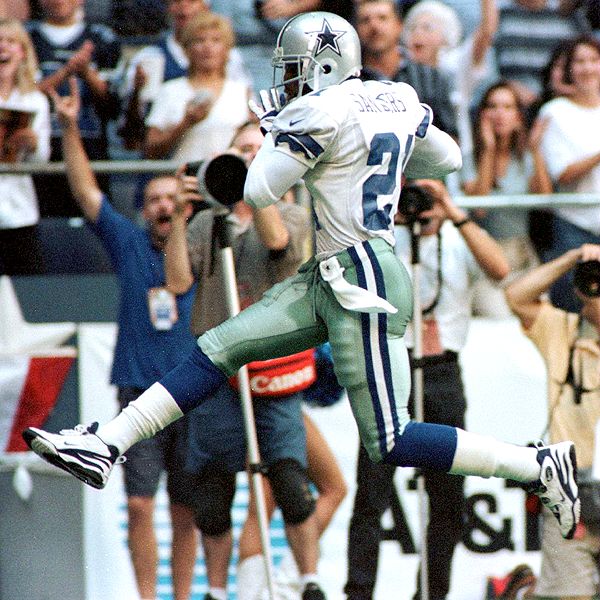 Now, you know why criticism never bothered him. Deion never let anyone define him.
Love him. Hate him.
It didn't matter as long as someone was paying him, but don't think he didn't love football.
He loved the competition and the camaraderie. He loved the life lessons the game taught him.
But he also loved what the game could do for his family more than anything else.
It crystalized the day a kid from his high school saw his mom working as a janitor at Lee Memorial Hospital in Fort Myers, Fla., where he grew up.
The next day, the kid -- as kids will do -- made fun of his mom. The insults cut deeply.
"I was ashamed of my mama because she worked in a hospital," said Deion, near tears as he told the story. "I was ashamed of my mama, who sacrificed, who loved me, who protected me, who gave me everything."
As he remembered the embarrassment he felt that day, emotion filled Deion's voice as he allowed folks to see the man -- not the persona he's created over the last 25 years.
His friends see that guy all of the time. So do his colleagues at the NFL Network. No one sees that guy more than the members of T.R.U.T.H, his youth sports organization.
During the summer, Deion is the guy who makes the 50-minute one-way drive most mornings from his home in Prosper, Texas to Duncanville, 15 miles south of downtown Dallas, to coach at his summer camp.
Deion is the guy who doesn't smoke or drink and has never dabbled in drugs because his dad was a drug abuser and his step-father was an alcoholic.
The guy we see on the NFL Network is Prime Time, the man with the effervescent personality and the strong opinions about who can play and who can't in the NFL.
Deion, who has answers his phone "Praise the Lord", has always been able to separate his alter egos.
If fans and critics couldn't, he didn't care. It wasn't his problem.
He was too busy to care, and he still doesn't.
When he's not working, Deion spends countless hours coaching and being a mentor to the kids in his youth organization. He wants to open a charter school next year.
During the fall, his weekdays will be filled with surprise visits to schools.
Sometimes, it's to praise a kid who's been performing academically and has improved. Or to acknowledge a kid doing well or help with a discipline problem.
Whatever it takes.
Seven busloads of kids, parents and coaches took the 21-hour drive from Dallas to share his experience in Canton. Just so you know, Deion rode the bus with them.
They're as much a part of his family as his wife and his five kids.
"We're raising our kids to be CEOs -- not employees. We're raising them to be leaders -- not followers," he said. "And T.R.U.T.H. family thank you for your sacrifices, your love and your compassion for me because, guess what, I need it."
That's Deion - not Prime Time.
Jean-Jacques Taylor is a columnist for ESPNDallas.com.
Follow Jean-Jacques Taylor on Twitter: @jacquestaylor