By Cindy Wooden


Catholic News Service
...Talking about the Catholic blogosphere, Los Angeles Cardinal Roger M. Mahony said, "I have been appalled by some of the things I've seen; of course, I've been the object of some of them."

Being Christian, he said, means treating others like Jesus treated people: reaching out to all and exercising extreme caution when making judgments.

"One of the side effects of the new technology that frightens me a bit is that people can hide behind a fake facade and then start shooting cannons at other people," the cardinal said.

One of the pontifical council's consultants, Basilian Father Thomas Rosica, the head of Canada's Salt and Light Catholic Media Foundation, said the Internet and blogs have brought about a "radicalization of rhetoric," even among Catholics.

The Web site of Salt and Light Television, he said, sometimes receives hundreds of comments on a story.

"Many we don't publish because of the filth and some we've turned over to the police" because of the threats they contain, he said.

Asked to address the council about Catholic media in North America, Father Rosica said, "On the Internet there is no accountability, no code of ethics and no responsibility for one's words and actions."

So many Web sites and bloggers who call themselves Catholics focus so much on negative stories and messages that increasingly "Christians are known as the people who are against everything," he said.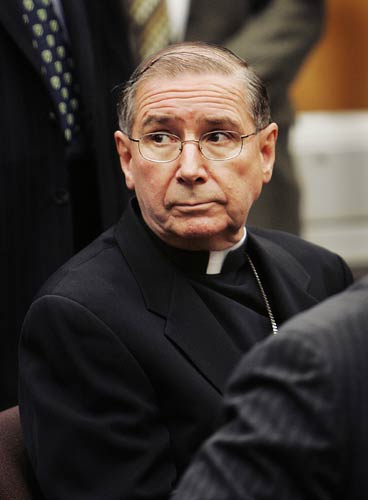 Cardinal Mahony said the sharp and often uncharitable divisions among Catholics seen on the Internet was particularly pronounced during the 2008 U.S. presidential election campaign.

And, he said, the campaign was not exactly a high point for unity among the U.S. bishops either.

During the campaign, Cardinal Mahony said, "I sensed a dangerous shift away from unity in faith and faith practice to differing opinions on this party or the other party, which I think is a very, very dangerous path to go down."

Some people could get "the impression that some bishops are very much in favor of one political party over the other, which should not be," he said. He added that when it comes to applying the Gospel to social questions bishops should be models for the Catholic faithful on how to hold a civil discussion, online or offline.

"You don't have dialogue when people anonymously throw out their hatreds, their prejudices, their biases and always -- in every case -- end up attacking people," the cardinal said.