By
Molly Gray
(
CNN
) -- Two Australian Olympic swimmers who posted pictures on Facebook of themselves brandishing
[perfectly legal]
weapons have been ordered to take them down by the country's swimming authorities.
The image, taken in a gun shop in Santa Clara, California, showed Nick D'Arcy with two pistols standing next to Kenrick Monk who is holding two shotguns across his chest, according to a Friday report in Australia's Herald Sun. The swimmers were training in the U.S. ahead of the Olympic Games in London later this year.
Swimming Australia said in a statement that it does not condone "the posting of inappropriate content on Facebook, Twitter or any social media platform."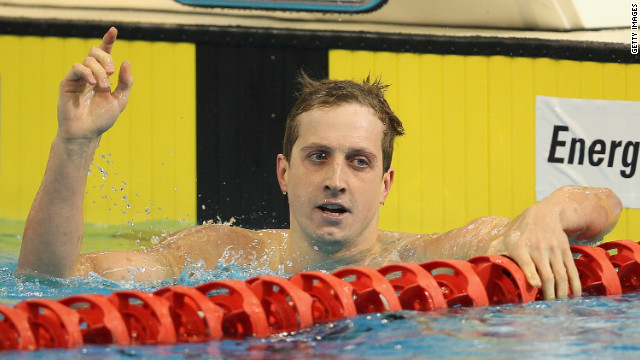 As of Friday morning, neither of the swimmers' Facebook pages or Twitter accounts contained the photo.
"It was all just meant to be a bit of fun, the photos were just a bit of fun," D'Arcy told local media after returning to Australia. "If anyone's been offended I deeply apologize. It was never the intent; it was never supposed to be offensive."
Dozens of fans have posted on Monk's public Facebook page saying they support the athletes and that Swimming Australia had blown the photo out of proportion.
Swimming Australia said they will be speaking with both athletes regarding the incident.
While the pair faces possible Olympic sanctions, D'Arcy has been embroiled in controversy in the past.
In 2008, he was dropped from the Beijing Olympic team following an assault charge for hitting teammate Simon Cowley and breaking his jaw, the Australian Daily Telegraph reported at the time.
Both swimmers were named in Australia's team in March.
Link: