Head of the Scottish Catholic church, Cardinal Keith O'Brien, says symbol shows you 'live by Christ's standards in daily life'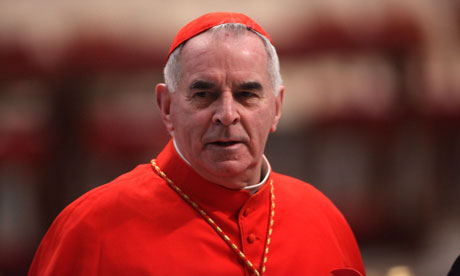 Cardinal Keith O'Brien at the Vatican, in February. Photograph: Franco Origlia/Getty Images
(The Guardian) Britain's most senior Catholic cleric has called on Christians to wear a cross every day as "a symbol of their beliefs" and to combat the marginalisation of religion in modern society.
The plea by Cardinal Keith O'Brien, head of the Catholic church in Scotland, to be made in his Easter sermon, comes as the Anglican archbishop of Canterbury, Dr Rowan Williams, appealed for more people to attend church this Sunday – even if they are "a bit vague" about religion.
Williams, who is marking his final Easter as leader of the Church of England, said he does not "lose sleep" over the fact many people only attend church at Easter and Christmas.
Speaking to BBC Radio 4, he said that he welcomed those with little connection to Christianity who just wanted to "let the story wash over them" knowing that they would not face a "doctrine examination".
But O'Brien will call on Christians to make the cross "more prominent in their lives". Due to speak at Edinburgh's St Mary's Cathedral on Sunday, he will tell them to "wear proudly a symbol of the cross of Christ on their garments each and every day of their lives"... (
continued
)