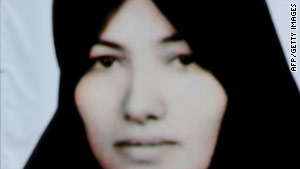 Rome, Italy (CNN)
-- Pope Benedict XVI is monitoring the case of an Iranian woman sentenced to death by stoning and has not ruled out getting involved through diplomatic channels, the Vatican said Sunday.
As he has in the past in humanitarian cases, the pope would intervene if asked by authorities in another country and would do so through proper diplomatic channels, not publicly, Vatican spokesman Federico Lombardi said in a statement.
"The Holy See is following the case with attention and participation," Lombardi said. "The position of the church, which is opposed to the death penalty, is that stoning is a particularly brutal form."
The woman, Sakineh Mohammadi Ashtiani, was sentenced to death by stoning after she was convicted of adultery. Iranian judicial authorities say a final verdict in her case has not yet been made, the semi-official ISNA news agency reported recently.
In July, Iran's judiciary said the case was under review.