Richard Luscombe
in Miami
guardian.co.uk
, Monday 1 February 2010 21.23 GMT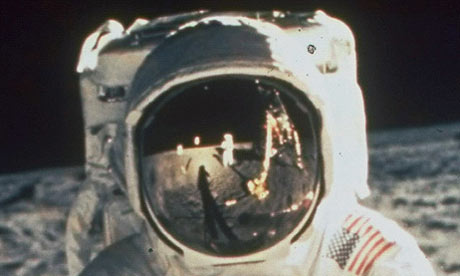 Apollo 11 astronaut Buzz Aldrin stands on the moon. It is now more than 40 years since mankind first went there. Photograph: NASA/Time & Life Pictures/Getty Images
The announcement of an end to immediate ambitions for an American to again reach the moon, on the seventh anniversary of the Columbia space shuttle disaster, sets the stage for a furious battle in Congress over US manned space exploration.
Politicians from Florida, Texas and Alabama, three states that have lost thousands of jobs in the space industry from this year's planned retirement of the ageing shuttle fleet, promised a fight to keep the moon programme, Constellation, alive.
"They are replacing lost shuttle jobs too slowly, risking US leadership in space to China and Russia, and relying too heavily on unproven companies," said Bill Nelson, a Democratic Senator for Florida and former astronaut who flew one mission in 1986.
Michael Griffin, who resigned as Nasa chief when Obama took office, branded the plan "disastrous", likening it to Richard Nixon's cancellation of the Apollo programme in the 1970s. "It means that essentially the US has decided that they're not going to be a significant player in human space flight for the foreseeable future," he told The Washington Post...