-
A controversy about whether to stand or kneel during the high point of the Catholic Mass has spread from one church in the Belleville Diocese to at least three others.
A three-page letter from Belleville Bishop Edward K. Braxton sent Dec. 11 to the Rev. Albert Kreher, pastor of St. Mary Parish in Trenton, orders him to tell his parishioners they must cease standing and instead, kneel during the reading of the Eucharistic Prayer, the point in a Catholic Mass where the bread and wine are believed to be transformed into the body and blood of Jesus Christ...
At St. Boniface Church in Germantown, the pastor, Monsignor James A. Buerster, said his 600 parishioners have stood for years during the reading of the prayer, despite a 1969 decision by what is now known as the U.S. Conference of Catholic Bishops that American Roman Catholics must kneel. Their decision was supported by the pope and is considered church law.
"Since the bishop is making an issue of this, we'll probably have to start kneeling here," Buerster said.
"When you have the kind of bishop we have, he makes issues out of things that in and of themselves are not that important," he said. But if Braxton orders that his diocese's parishioners must kneel, Buerster said, "then we'll be kneeling..."
"This is liturgical nitpicking that winds up harming the solemnity of the liturgy," said Frank Flinn, an adjunct professor of religious studies at Washington University in St. Louis...
"I think Braxton is being almost a policeman to enforce what the American bishops voted on," [The Rev. Michael S. Driscoll, professor of theology at the University of Notre Dame near South Bend, Ind.] said.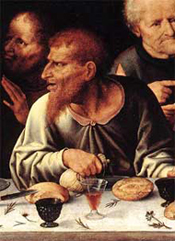 At St. Joseph Church in Lebanon, where the membership is also under the pastorship of Margason, who heads the church in Shiloh, parishioner Jeff Greenstreet said churchgoers now kneel but some are not happy about be ordered to their knees.
"We live in one of the poorest diocese in the country with East St. Louis in our diocese, and he doesn't seem to be too much concerned with helping people they're in need and yet we worry about whether or not the parishes are standing or kneeling," said Greenstreet, a retired airline pilot.
"I don't think this is something that Christ would worry about, and I don't see we have any reason to need to worry about it ... but we have to comply, according to the bishop's mandate," he said. He added that after learning that Braxton wanted all to kneel, he knelt.
Flinn said the controversy is inflated in its importance.
Referring to Leonardo DaVinci's iconic painting "The Last Supper," Flinn said: "I think DaVinci got it right. We should all be sitting around a table sharing a meal."