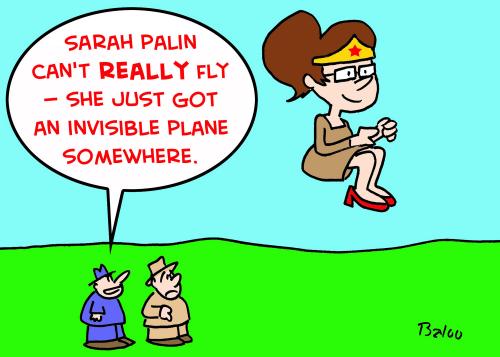 Overflow crowd saw Sarah, not candidate
By Thomas B. Langhorne (Contact)
Sunday, April 19, 2009
It wasn't supposed to be a political event, but try telling that to a man who has seen 2,200 people react when he walks into a banquet hall.
Sgt. Robert Goedde, a sheriff's officer who was at Alaska Gov. Sarah Palin's side throughout her 17-hour stay in Evansville, says Palin was besieged at Thursday's Vanderburgh County Right to Life banquet by people urging her to run for president in 2012.
Centre pays to set tables for visit
The annual Vanderburgh County Right to Life spring banquet, which organizers call the largest such event in the nation, already had sold 175 tables before Alaska Gov. Sarah Palin's appearance there was announced.
After it was announced, organizers squeezed in enough additional tables to up the banquet capacity from 2,050 to 2,180 and sold almost 800 additional tickets for a satellite feed in The Centre's auditorium. The Evansville-Vanderburgh County Building Authority, which owns The Centre, bought an extra $10,000 worth of plates, silverware and table cloths.
On Thursday, Evansville police closed down Ninth Street between Locust and Walnut streets to make room for a crush of vehicles representing media organizations.
Mary Ellen Van Dyke, executive director of Vanderburgh County Right to Life, said receipts from the banquet have not been tallied. Van Dyke said Right to Life officials hope they top the banquet's previous record $300,000 fundraising take by $100,000.
The exhortations, which Goedde called a constant refrain, began as soon as he and Palin and other officers began making their way to the banquet's head table through surging crowds in The Centre's assembly hall. The journey, during which Palin was mobbed by people seeking autographs and pictures, took 20 minutes.
"Some people would shout it out, and you'd see others just asking her," Goedde said. "I heard it two or three times a minute, the entire time. She'd just smile and wave. She was very gracious."
Palin's appearance at the sold-out Right to Life banquet was her first major public event outside of Alaska since the 2008 presidential campaign, when she and Sen. John McCain, R-Ariz., were defeated.
Campaign opener?
Dr. W.R. Mack, a political scientist at the University of Southern Indiana, called it the first major event of the 2012 presidential campaign. Mack cited Palin's criticism of Democratic President Barack Obama in Evansville on the abortion issue.
Mack said the key to understanding Palin's appeal to social conservatives — a potent constituency in Republican presidential primaries — is her perceived sincerity and strength of conviction about their issues...