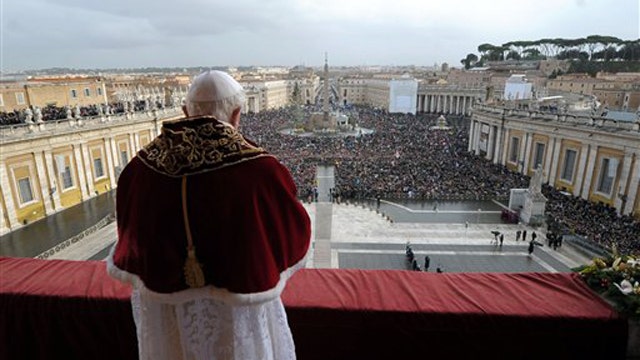 (
Fox News
) Pope Benedict XVI will resign at the end of February, the Vatican Press Office tells Fox News.
The 85-year-old pontiff made the announcement Monday, saying he no longer had the strength to carry out his papal duties.
"After having repeatedly examined my conscience before God, I have come to the certainty that my strengths, due to an advanced age, are no longer suited to an adequate exercise of the Petrine ministry," the pope said according to a statement released by the Vatican.
He said he is aware of the "seriousness" of his resignation, but that he did so in "full freedom."
The last pope to resign was Pope Gregory XII, who stepped down in 1415 in a deal to end the Great Western Schism among competing papal claimants.
Born Joseph Aloisius Ratzinger, Pope Benedict became the 265th pope after being elected by his fellow Cardinals elected on April 19, 2005 at the age of 78 following the death of the popular John Paul II. The ninth German pope and first in nearly 500 years, Benedict was ordained in 1951 and was a major figure at the Vatican stage for decades before his ascension.
Ratzinger chose the name Benedict, which comes from the Latin word meaning "the blessed," in homage to Pope Benedict XV, who was pope during World War I, and Saint Benedict of Nursia, who established the Benedictine monasteries.
The sudden announcement sets the stage for the Vatican to hold a conclave to elect a new pope by mid-March, since the traditional mourning time that would follow the death of a pope doesn't have to be observed. There are several papal contenders in the wings, but no obvious front-runner, according to Vatican watchers.
Link: