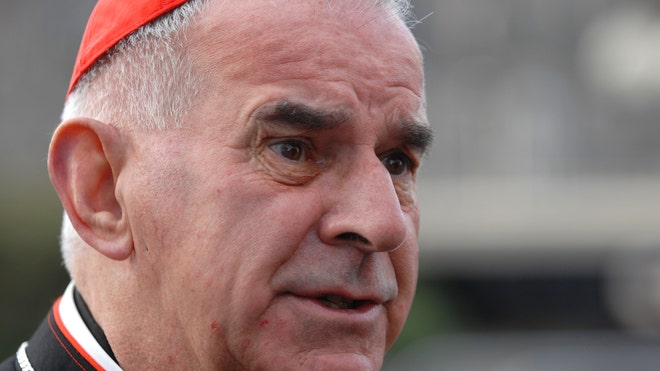 From the Associated Press via FoxNews.com:
LONDON –
Cardinal Keith O'Brien, Britain's highest-ranking Catholic leader, recused himself on Monday from taking part in the conclave to elect the next pope after being accused of improper conduct with priests — an unprecedented first head to roll in the mudslinging that has followed Pope Benedict XVI's decision to resign.
O'Brien also resigned as archbishop of St. Andrews and Edinburgh, though the Vatican insisted that Benedict accepted his resignation purely because he was nearing the retirement age of 75 — not because of the accusations. But O'Brien himself issued a statement Monday saying he would skip the conclave because he didn't want to become the focus of media attention at such a delicate time for the Catholic Church.
O'Brien has said through his spokesman that he is contesting allegations made Sunday in a British newspaper that three priests and a former priest had filed complaints to the Vatican alleging that the cardinal acted inappropriately with them. The Observer newspaper did not name the priests, but it said their allegations date back to the 1980s. There were no details about the alleged inappropriate behavior.
It is the first time a cardinal has recused himself from a conclave because of personal scandal. It comes in the wake of a grass-roots campaign to shame another cardinal, retired Los Angeles Cardinal Roger Mahony, into refraining from participating because of his role protecting sexually abusive priests.
Mahony, however, has defiantly said he would participate in the voting for the new pope.
The difference in cases boils down to the fact that O'Brien himself was accused of improper behavior, whereas Mahony has been shown to have covered up for other priests who raped and molested children — a distinction that has long shielded bishops accused of cover-up from Vatican sanction.
Several other cardinals who will elect the next pope have been accused — and some have even admitted — to having failed to protect children from abusive priests; if all of them were to recuse themselves for negligence, the College of Cardinals would shrink by quite a few members.
Nevertheless, the O'Brien decision sets an historic precedent, said Terrence McKiernan of BishopAccountability.org, an online database of records on clergy abuse cases.
"It is a public demonstration of the role that clerics with inside information can have in bringing accountability to a church where secrecy has led to a crisis of sexual misconduct," he said. "Cardinals who are tainted by the crisis cannot choose the person who will solve it."
With O'Brien's decision and the decision of a frail Indonesian cardinal to stay home, there are expected to be 115 cardinals under age 80 who are eligible to vote in the conclave.
Separately Monday, Benedict changed the rules of the conclave, allowing cardinals to move up the start date if all of them arrive in Rome before the usual 15-day waiting period between the end of one pontificate and the start of the conclave. It was one of his last acts as pope before resigning Thursday.
The date of the conclave's start is important because Holy Week begins March 24 and Easter Sunday is March 31. In order to have a new pope in place for the church's most solemn liturgical period, he would need to be installed by Sunday, March 17, a tight timeframe if a conclave were to start on March 15, as per the previous rules.
And in another development Monday, Benedict decided that the contents of a secret investigation into the 2012 leaks of Vatican documents won't be shared with the cardinals ahead of the conclave. Benedict met Monday with the three elderly cardinals who conducted the probe and decided that "the acts of the investigation, known only to himself, remain solely at the disposition of the new pope," a Vatican statement said.
Speculation has been rife in the Italian media that the three cardinals — Julian Herranz, Jozef Tomko and Salvatore De Giorgi — would be authorized to share the information with fellow cardinals before the conclave. That assumed the cardinal electors would want to know details about the state of dysfunction in the Vatican bureaucracy and on any potentially compromised colleagues before possibly voting one into office.
Benedict appointed the three men last year to investigate the origins of leaks, which revealed petty wrangling, corruption, cronyism and even allegations of a gay plot at the highest levels of the Catholic Church. The pope's butler was convicted of aggravated theft in October for having stolen the papers and given them to a journalist who then published them in a blockbuster book.
While the three cardinals cannot share the full contents of their investigation, it's unclear if they could give subtle hints about potential papal candidates to the electors. The Vatican's assertion that only the pope knew the contents of the dossier was a clear message to readers of Italian newspapers, which have run several articles purporting to know the contents of the report.
O'Brien's decision to remain home rather than participate in the conclave made him the first head to roll in the remarkable two weeks since Benedict, 85, stunned the world and announced he was becoming the first pope in 600 years to resign. The pope said he simply didn't have the "strength of mind and body" to carry on.
It marked a dramatic end to a career that got off to a rocky start when in 2003, as a condition of being made a cardinal, he was forced to issue a public pledge to defend church teaching on homosexuality, celibacy and contraception. He was pressured to make the pledge after he had called for a "full and open discussion" on such matters.
At the time, O'Brien said he had been misunderstood and wanted to clarify his position. But it's clear now he never really changed his mind; On Friday, three days before his resignation was made public, O'Brien told the BBC that celibacy should be reconsidered since it's not based on doctrine but rather church tradition and "is not of divine origin."
It appeared to be something of a parting shot, reasserting beliefs that he had kept quiet for a decade.
At home, at O'Brien's St. Mary's Roman Catholic Cathedral in Edinburgh, his decision was met with shock and disbelief.
"There are a lot of unanswered questions here and I am unhappy about that people can make such serious charges while remaining anonymous," said David Murphy, 52, an administrator from Edinburgh. "It's like he's been hounded out of office without a proper chance to defend himself."
But Peter Mitchell, 32, a church-goer from Fife, conceded that the church may have to brace itself for scandal. "These don't appear to be random allegations, we are talking about three serving priests who are being very specific and I don't think they would lie in this way."
O'Brien said in a statement that he was in "indifferent health" and had offered his resignation last November — a statement confirmed by the Vatican spokesman, the Rev. Federico Lombardi.
Lombardi said the pope had merely acted on it now as he clears up his final tasks before stepping down. Usually the pope waits until after the 75th birthday to accept a resignation; in this case Benedict acted a few weeks shy of O'Brien's March 17 birthday.
"Looking back over my years of ministry: For any good I have been able to do, I thank God. For any failures, I apologize to all whom I have offended," O'Brian said in his statement. He said he would pray for the cardinals in Rome but that he himself would not participate.
"I do not wish media attention in Rome to be focused on me — but rather on Pope Benedict XVI and on his successor," O'Brien said. "However, I will pray with them and for them that, enlightened by the Holy Spirit, they will make the correct choice for the future good of the church."
During a briefing with reporters at the Vatican last week, a Vatican historian, Ambrogio Piazzoni, was asked about the campaign to keep Mahony away from the voting because he covered up sexual abuse by priests.
Piazzoni said while in the past some cardinals have been impeded either by illness or by interference from their governments, none has stayed away because of a stain on his own reputation.
"The thing that characterizes a cardinal is to be an elector of the pope," he told reporters then.
Link: