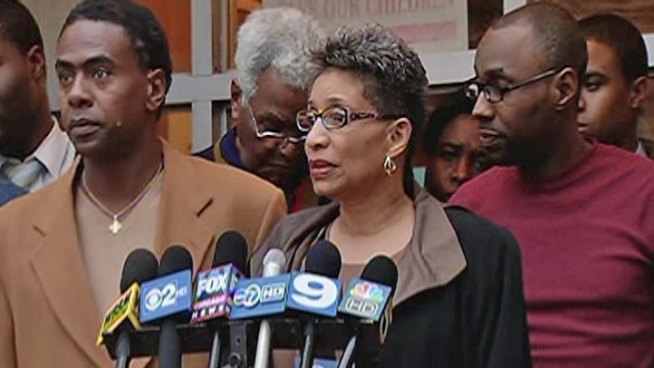 "I want to say he was ambushed" - Kimberly Lymore, the Associate Minister at the Faith Community of St. Sabina
From the
Associated Press
:
The Rev. Michael Pfleger recently has said he would leave the church rather than be removed from St. Sabina Church, where he has been pastor for more than 30 years. Cardinal Francis George earlier this year offered Pfleger the presidency of a Catholic high school near the church.

"If that is truly your attitude, you have already left the Catholic Church and are therefore not able to pastor a Catholic parish," George wrote.

The cardinal said that while he has been suspended from his priestly duties, Pfleger retains the office of pastor while temporarily without permission to function.
From
NBC Chicago:
Members of the Faith Community of St. Sabina said Wednesday evening that Fr. Michael Pfleger was "ambushed" when he was given a letter of suspension by Francis Cardinal George...
Pfleger was on the church's premises Wednesday night but refused to speak publicly.

"He's shocked. He didn't know. He was blindsided. I want to say he was ambushed," (Kimberly) Lymore said...
From
WSBT
:
Associate minister Kimberly Lymore said that Pfleger had been called to a 4:30 p.m. meeting with the cardinal at the archdiocese's pastoral center. When he arrived, she said, Pfleger was given a letter stating that he was suspended and was told the cardinal would not discuss it further.

"That's a lack of respect," Lymore said. "He was ambushed. He's spent the last (three decades) in this archdiocese, given his life to this community, to the church. To be treated like this is unfair."
From the
Chicago Sun-Times
:
"He's upset, angry, discouraged, disappointed, disrespected," associate pastor Kimberly Lymore said Thursday, explaining how Pfleger had first learned of his latest suspension through the media. "He says he's never felt this disrespected in his 36 years in the ministry."
From the
Chicago Tribune
:
Denise Gomez said she felt the decision was a form of retaliation. "For the Cardinal to decide that this is the day I'm going to suspend him, that's outrageous," she said outside the church. "We're in shock and at the same time hopeful that someone higher than the Cardinal will not allow this abuse of power."
From
the Southtown Star
:
In the letter, George wrote he didn't think the conflict was personal.

"This conflict is not between you and me; it's between you and the church that ordained you a priest, between you and the faith that introduced you to Christ and gives you the right to preach and pastor in his name," said George. "If you now formally leave the Catholic Church and her priesthood, it's your choice and no one else's. You are not a victim of anyone or anything other than your own statements."

The letter was released to the media and St. Sabina parishioners "to avoid misrepresentation and manipulation on anyone's part," George wrote.
Background
from two weeks ago:
"I want to try to stay in the Catholic Church," (Father Pfleger) said. "If they say, 'You either take this principalship of [Leo High School] or pastorship there or leave,' then I'll have to look outside the Church."