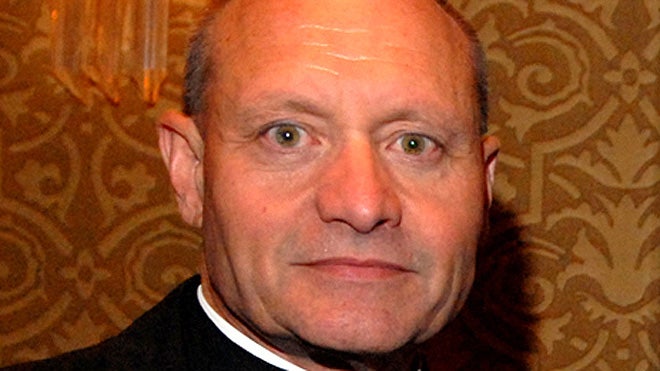 Monsignor Kevin Wallin of the Diocese of Bridgeport, 2010. (Connecticut Post file photo)
(
Fox News
) The Catholic priest indicted by a federal grand jury in an alleged nationwide methamphetamine ring was reportedly suspended after Connecticut church officials discovered he was a cross-dresser who was having sex in the rectory at Bridgeport's St. Augustine Cathedral.
The Connecticut Post reports that Monsignor Kevin Wallin was relieved of his duties in May, but the Roman Catholic Diocese of Bridgeport continued to pay the 61-year-old man a stipend until his Jan. 3 arrest. Wallin had planned to fly to London that day, the newspaper reports.
At one point, Wallin, who is now dubbed "Msgr. Meth" by some, was selling upwards of $9,000 of meth a week, including shipments from Connecticut to California, according to his indictment.
In his post-priesthood life, Wallin, of Waterbury, purchased an adult specialty and video store in North Haven called Land of Oz that sold sex toys and adult videos. Investigators believe the shop helped him launder thousands of dollars in weekly profits, the newspaper reports.
Wallin's arrest shocked residents throughout Bridgeport and Danbury, where he was known as a charismatic speaker who was involved in many charitable activities. He often attended musicals with his mentor, former New York Cardinal Edward Egan and parishioners.
"There is an evil invading our world and it has come to our church," longtime St. Augstine parishioner Maria Spencer-Fonseca told the newspaper. "This was a work of evil — and I am praying for the monsignor."
Therese Ruppert, a parishioner at the Church of St. Peter in Danbury, where Wallin was pastor from 1996 to 2002, said she "can't fathom" the news.
"He was so spiritual," Ruppert told the newspaper. "His sermons were wonderful. He had such knowledge of theology..." (
continued
)