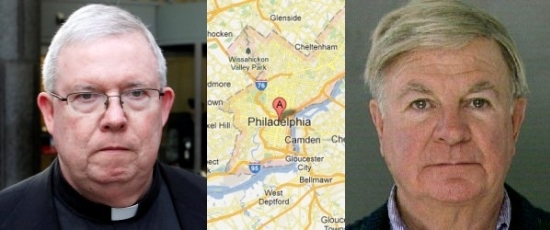 The conviction of Philadelphia's
Msgr. William J. Lynn
last June was
historic
and widely trumpeted by an overheated media, as Lynn became the first member of the Catholic hierarchy to be found guilty in a criminal court for endangering children.
And the sole reason Lynn sits in jail today is because former priest
Edward Avery
had pleaded guilty to sexually violating a 10-year-old boy in the late 1990s. Prosecutors claimed that Lynn should not have placed Avery into a ministry assignment because the priest had a prior abuse accusation dating back to the 1970s. Had Lynn kept Avery out of public ministry, prosecutors charged, he would not have been able to abuse the 10-year-old.
But in
a truly shocking development
, Avery took the witness stand today in a Philadelphia courtroom and
recanted under oath
his guilty plea.
This remarkable turn-around indicates that Msgr. Lynn may likely be sitting in jail based on a crime
that never even happened
!
A trial under the radar
Today, Avery appeared as a witness in the trial of accused Catholic priest
Rev. Charles Engelhardt
and former teacher
Bernard Shero
. The alleged 10-year-old victim is now a 24-year-old admitted drug addict and criminal, and he has claimed that the three men – Avery, Engelhardt, and Shero – all sexually assaulted him during the late 1990s when he was a student at St. Jerome's Parish in Philadelphia.
The accuser's claims are quite wild, indeed, and Engelhardt and Shero have
vehemently
denied the charges against them.
Why the turnaround by Avery?
Yet Edward Avery pleaded guilty to the charge against him last March before going to trial. The obvious question people are asking is, Why?
Avery pleaded guilty because he faced a possible sentence of
two decades
in prison if found guilty by a jury, and prosecutors offered him a very generous 2 1/2 to 5 years.
Last September
we learned that Avery has not only denied that he sexually assaulted the boy but that he has said that he
did not even know
the accuser... (
continued
)
Link: